Welcome to Mill Road Surgery
Welcome to Mill Road Surgery. This website will give some useful information about how our service works and how to make it work for you.
The Practice will accept patients moving into the area of Ecclesfield,
Chapeltown and Thorpe Hesley, who do not have the services of a local GP.
Please ask at reception for details of the practice boundary before registering.
If we are unable to register you with the practice you will be given a clear explanation.
Click on the link below for our Patient's Charter: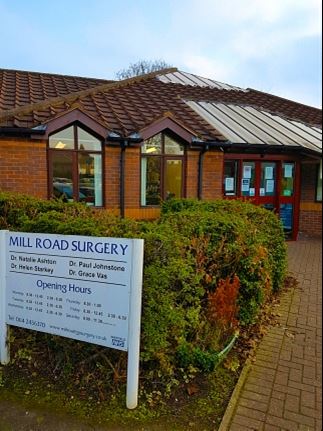 Latest News
Over 65's Flu Clinic on Thursday 14th October
If if you receive a SMS text message please follow the link to make an appointment, alternatively call the surgery to book an appointment. These will be available on a first come first serve basis and further clinics will be available after this.
Support your surgery so it can be there to support you .
Please take a minute to sign our petition and show your support
https://www.bma.org.uk/supportyoursurgery
Messaging on vaccines for 12 – 17 year olds
16 and 17 year olds
The Joint Committee on Vaccine and Immunisation (JCVI) has announced that all 16 and 17-year-olds in the UK will be offered the first dose of the covid-19 vaccine.
We don't currently know when the vaccine will start to be offered to this group, but we will keep you updated when we know more.
Once a date is confirmed this age group will be able to book their vaccine via nhs.uk/coronavirus-vaccination, 119 or by attending a walk-in clinic.
Please don't contact your GP about vaccination for this age group.
16 and 17 year olds will not need parental consent to have the vaccine.
The only vaccine currently approved for under-18s in the UK is Pfizer.
12 – 17 year olds with underlying health conditions
Children aged 12 to 17 years with specific underlying health conditions that put them at risk of severe COVID-19 should be offered 2 doses of Pfizer vaccine with an interval of 8 weeks between doses.
This currently includes children with severe neuro-disabilities, Down's Syndrome, underlying conditions resulting in immunosuppression, profound and multiple learning disabilities (PMLD), severe learning disabilities or who are on the learning disability register.
If you are eligible you will be contacted by the NHS when it is time for your vaccination appointment.
Please don't contact your GP about vaccinations.
Changes from 19th July
Whilst government guidance changes on the 19th July in respect to the wearing of masks we will continue to ask that they be worn when attending the practice. As a health care provider we have worked tirelessly over the past 15 months to create a safe environment within which staff can work and you can attend. Whilst the number of positive cases continues to rise we believe it appropriate to continue with our current arrangements.So you will still be asked the COVID related questions, asked to wear a mask and you will be socially distanced in the waiting room. Please note that we are still open from 8am until 6.30pm. We are still operating on a telephone triage basis initially, however, if you need to be seen face to face then the clinician will book you in. Please respect the job that the receptionists are doing, they are working to protocols set out by the partners in order to keep this practice operating as efficiently and as safely as possible. We hope you understand the reason for us continuing to work in this manner. The situation will be reviewed regularly and changes made where appropriate. Our key focus is keeping the staff and community as safe as possible, thank you for your understanding and continued support.
Covid-19 vaccination status
From 17 May 2021, people in England who have been fully vaccinated against COVID-19 can demonstrate their vaccination status for international travel. A full course is currently two doses of any approved vaccine. Vaccine status will be available from:
the NHS App which you can download from app stores
It may take more than a week for your identity to be checked and verified so you can use this service.
If you cannot access this online service, and you have had 2 vaccines, you can request a paper letter from the NHS by calling 119. Only call 119 if you are due to travel abroad in the near future and have had your second dose more than 5 working days ago. It may take 7 working days for the letter to arrive.
This practice is not able to provide you with a letter that shows your COVID-19 vaccination status.
When you're planning your travel, check the latest information on demonstrating your COVID-19 status when travelling abroad on the gov.uk website. Make sure there is time to get proof of your vaccination status before you leave.
Covid vaccinations for people aged 18 - 49
The NHS has now started phase 2 of the covid vaccination programme, vaccinating the healthier population aged 18-49.
MILL ROAD SURGERY will not be offering vaccinations to this cohort of patients. You will be invited by the NHS to have your vaccination at a mass vaccination centre such as Sheffield Arena or a pharmacy, or pharmacy led site, within 45 miles.
Unfortunately we are unable to help with vaccination enquiries for this group of patients. When you are eligible you will be contacted by the NHS with details on how to book your appointment. Please be patient and wait for your appointment, this is the biggest vaccination programme of its kind and it will take a while for everyone to be vaccinated. The NHS aims to have given all adults the first dose of the vaccine by the end of July 2021.
If you have a query about an existing appointment that has been booked through the national booking service please call 119 or visit www.nhs.uk/covid-vaccination. The practice is unable to help with these enquiries.
Keep up to date with the latest practice news
Newsletter
To receive future editions of the newsletter straight to your inbox sign up below.